Things To Do When You Visit The Smokies!
The Great Smoky Mountains National Park is the most visited national park in the United States! Many of our properties are less than a five-minute drive to the Cosby entrance of the National Park. You will find that the Cosby Entrance is one of the more private parts of the Park. Cosby Creek runs alongside the road. This is a great place for bear watching in the early mornings and near sunset.
Cosby Attractions
The Cosby side of the East Tennessee Smokies is notable for its quiet and less-developed approach to giving visitors access to the National Park. That being said, those wish to spend some of their vacation time here will find some worthwhile things to do within a reasonable distance of our cabins in Cosby, Gatlinburg and Pittman Center in-between. Here are some of our recommendations near Cosby, TN:

* Carver's Orchards *
3460 Cosby Hwy.
Cosby, TN 37722
(423) 487-2710
https://www.facebook.com/pages/category/Family-Style-Restaurant/Carvers-Orchard-Applehouse-Restaurant-143774082300743/
From Tnvacation.com:
"Overlook the Smokies and apple orchards and have a delightful meal at Carver's Applehouse! Actually a family farm orchard, the Carvers have been growing apples in the area since the 1940s. Kyle Carver started his orchard in 1942, hand grafting and planting apple trees in his cornfield. The orchard now sits on 75 acres in Cosby, boasting over 40,000 trees and 126 varieties of apples. To whet your appetite, you will be brought a basket of apple fritters served with apple butter and a juice glass of apple cider. Sample a breakfast special, served with Carver's homemade apple cider and crispy apple fritters, with Carver's homemade apple butter, 2 eggs any style, grits or gravy, fried apples or oven-browned potatoes and homemade buttermilk biscuits. The catfish is legendary, pair it with pinto beans and fried apples; the chicken pot pie is exceptional. In the store, you will find a dazzling array of canned goods from relishes to jams--the perfect gifts to take home. Appalachian specialties such as lye soap, apple butter, candies and, of course, their legendary fried apple pies are available at the store. Learn More About Carver's Orchard & Apple House Restaurant: Apple house restaurant & orchard Tours Apples, peaches, grapes, honey, apple butter, apple cider, hot fried apple pies Serving breakfast, lunch and dinner."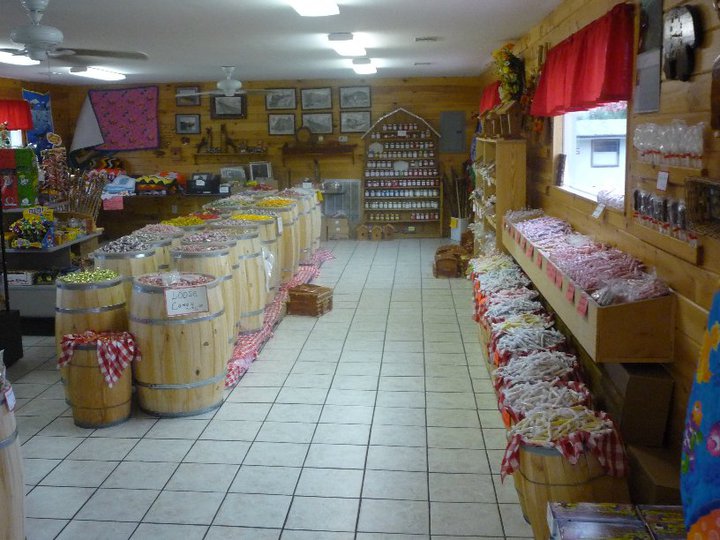 * Foothills Of The Smoky's Quilt Shop *
3892 Cosby Hwy.
Cosby, TN 37722
(423) 487-3866
http://foothillsofthesmokysquiltshop.com/
From their website:
"Foothills of the Smoky's Quilt Shop is located in a historic log cabin in Cosby, Tennessee, and packed full of high quality quilting fabrics and supplies. We offer expert advice and instruction with all of your quilting projects. We offer a wide variety of quality quilting fabrics and supplies. You will find everything you need to complete your next quilting project. Start your Fall & Winter quilt now!"

* Smoky Mountain Llama Treks *
640 Padgett Mill Rd.
Cosby, TN 37722
(616) 430-0775
https://smokymountainllamatreks.com/
From their website:
"Stunning Scenery, Lovable Llamas, Smoky Mountain Memories. Your memories aren't complete until you've experienced the unique hiking adventure that is Smoky Mountain Llama Treks. Enjoy spectacular, scenic, Smoky Mountain trails accompanied by an experienced guide and friendly, fluffy, professionally trained, llamas. We offer two hikes. One is approximately an hour long and the other is approximately two hours long. For those that don't wish to hike we offer the Farm Visit also known as a petting zoo. Smoky Mountain Llama Treks has the perfect outdoor adventure for you and your family. Let our llamas walk with you and nibble mountain wildflowers while you relax, enjoy your hike, and make a Smoky Mountain memory."

* Bootleggers Distillery *
3567 Hartford Rd.
Hartford, TN 37753
(865) 323-5444
https://www.bootleggersdistillery.com/
From their website:
"At Bootleggers Distillery, we like to focus on the quality of our products as well as the quality time spent perfecting our craft as a family. While we may be a small family-owned distillery, we stand out as one of the few distilleries that distill every drop of alcohol that we put on the shelves. Our attention to detail and long lineage of distilling has allowed us to give our customers an outstanding product that we believe to be unmatched in the industry. Any of us at Bootleggers Distillery can gladly walk you through our detailed distilling process and answer any questions you may have while on your visit. We hope we have the chance to welcome you into our distillery very soon where you can take a tour and try out each of our unique products."

* Adventure Distilling Company *
4649 Hooper Hwy.
Cosby, TN 37722
(423) 623-6844
https://www.adventuresmokies.com/distillery/
From their website:
"Join us in celebrating the legacy of moonshine in our area! Everyone that has the opportunity to visit us will have a wonderful experience and leave with a lifetime of memories. It is our goal to produce top quality liquor and share it with the world. Our unique style of making moonshine comes from years of experience and the hard work of our ancestors. We're bringing moonshine out of the woods and into our distillery."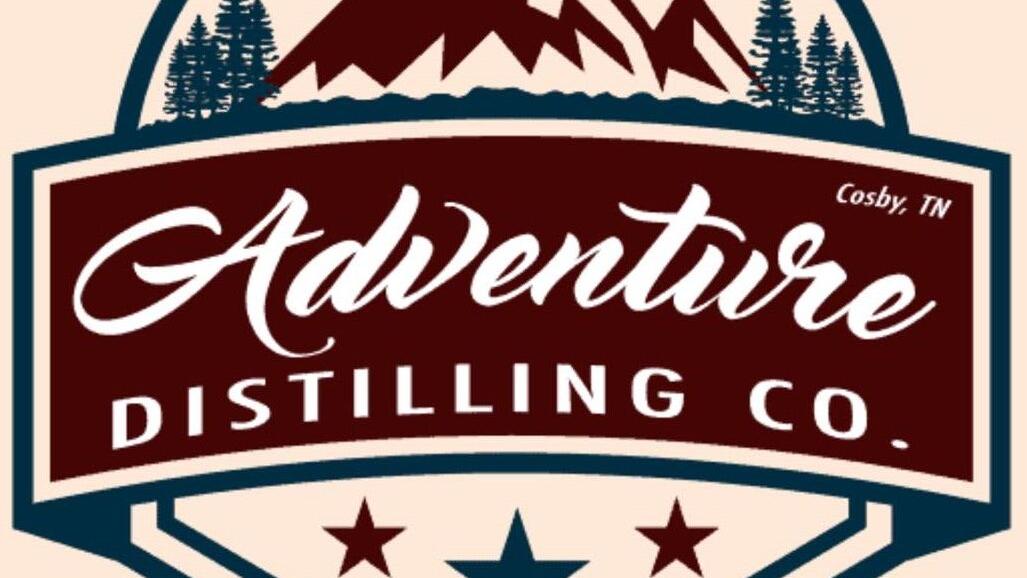 * Our Place Books, Coffees, Unique Gifts *
115 Cricket Hollow Way.
Cosby, TN 37722
(423) 487-4565
https://www.facebook.com/pages/category/Coffee-Shop/Our-Place-271877926158756/
From their Facebook page:
"Unique Smoky Mountain bookstore located in gorgeous Cosby, TN, with both new and used rare print titles, organic fair trade coffees, unique local souvenirs, handcrafted soaps, teddy bears, and an eclectic mix of local items & more. We feature approx. 100,000+ new, used, & rare books, in all genres. We specialize in mostly nonfiction, serious books for book diehards, but we also carry the usual in bestsellers, classics & everything else. We love cookbooks, craftbooks, kid's books, history, the sciences, religions & more. We also carry DVD's, CD's, Boyd's bears, Smoky Mountain souvenirs, T-shirts, mugs, local honey, jams & jellies, organic & healthy snacks, & whatever else we think is interesting."
Restaurants Near Cosby
We have a selection of quality eateries for breakfast, lunch and dinner in and around Cosby, TN, as well! In fact, most of our restaurants are unique and locally owned or non-chain restaurants. You will certainly find a favorite in our area.
Here are some of our suggestions:
* Mama's Chicken Kitchen *
1244 East Pkwy.
Gatlinburg, TN 37738
(865) 412-1333
https://www.mamaschickenkitchen.com/
From their website:
"We serve the same fried chicken and homemade sides that you fell in love with at Mama's Farmhouse in Pigeon Forge. Here in Gatlinburg, we do things a little differently. Our chicken and sides are served by the plate if you want to eat with us. Or we offer it by the bucket To Go if you want to take a picnic to the Smoky Mountains or feed that hungry group of athletes at Rocky Top Sports World, which is nearby."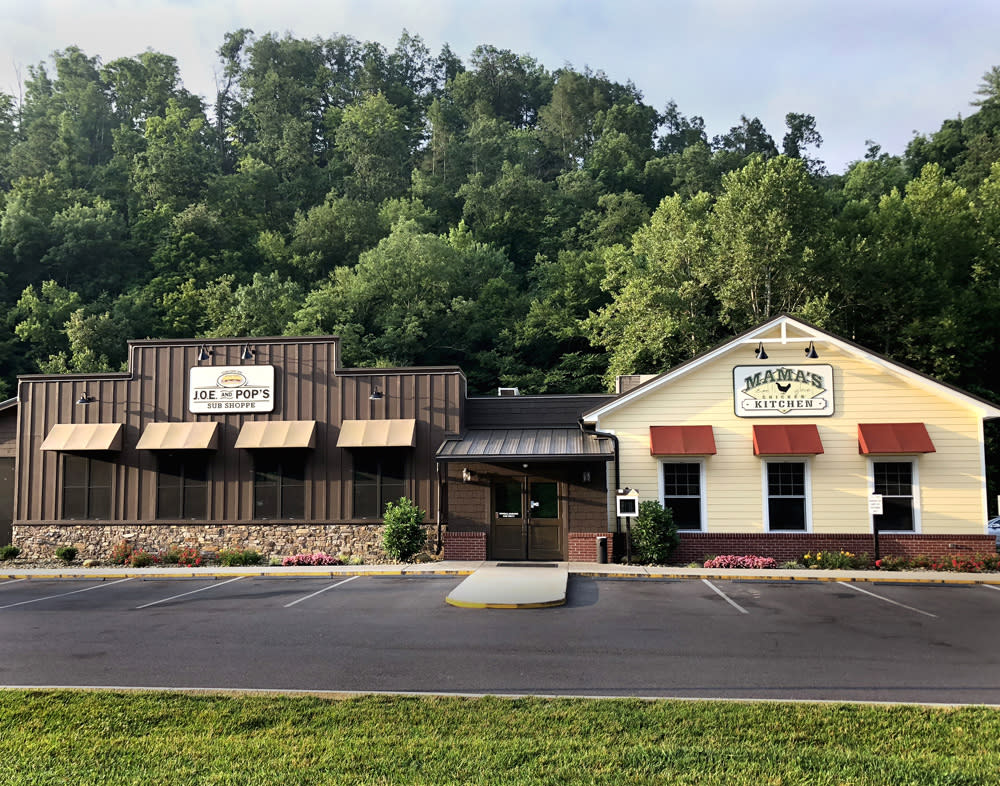 * Three Jimmy's Good Time Eatery *
1359 East Pkwy. #F
Gatlinburg, TN 37738
(865) 325-1210
https://threejimmys.com/
From their website:
"To start off, Three Jimmy's is all about fresh and homemade food that never disappoints. We serve appetizers to make you feel at home – all of your favorites like our award-winning wings, fried mushrooms with our special sauce, chicken tenders that set us apart from most and more! Our wide variety of entrees are served with delectable side dishes that aim to please, like our famous smoked Gouda macaroni and cheese, baked beans, fresh homemade coleslaw, unique fresh salads with our homemade dressings. our meats are smoked in house to perfection. Discover our delicious Prime Rib Brisket, Smoked Prime Rib, Jimmy's Rockin' Ribs and more. Our comfort dishes aim to please all ages, all seasons. Our Chicken Pot Pie is new, people return for our Open Roast Beef Sandwich and Maple Bourbon Chicken. The local's say we have the Best Burgers in Gatlinburg!"

* Crystelle Creek *
1654 East Pkwy.
Gatlinburg, TN 37738
(865) 430-1551
https://www.crystellecreek.com/
From their website:
"Crystelle Creek Restaurant and Grill is one of the most unique Smoky Mountain and Gatlinburg restaurants offering something for everyone; including families, groups, children or a romantic dinner for 2. Our goal is to provide you with the finest dining experience in Gatlinburg at an affordable price with professional and friendly service. We are also a Gatlinburg hosting service providing private dining and in-house hosting for wedding receptions, special events, holiday parties, family reunions, group meetings or other special events."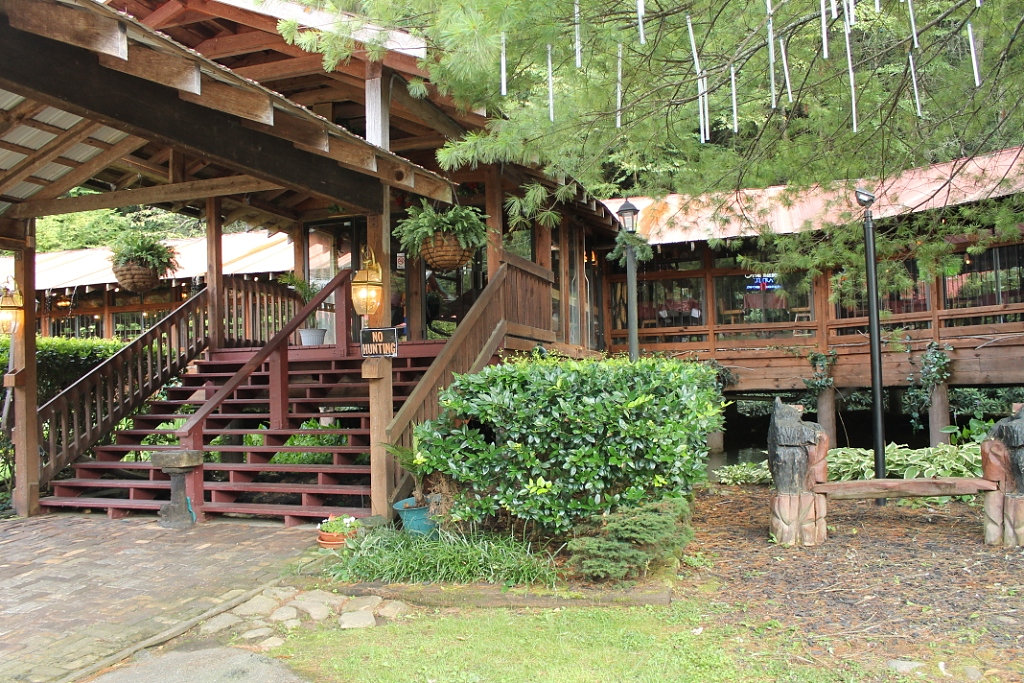 * Trish's Mountain Diner *
3619 East Pkwy.
Gatlinburg, TN 37738
(865) 325-8093
https://www.facebook.com/TrishsMountainDiner/
From their website:
Enjoy a warm and cozy atmosphere, where family and friends can relax and feel right at home. Serving breakfast from 7:00 am to 11:00 am. Our breakfast menu has full mountaineer meals, and lighter options as well. Biscuits and gravy are a local favorite! Lunch is served from 11:00 am to 2:30 pm. We have daily lunch specials with a lot of food at a great price. You may also choose from a large selection of sandwiches, country veggies, or one of our filling full meals. Trish's homemade soups are a local hit! Give our "Country Diner" a try and make our home your home.

* Magnolia Tree *
4925 Hooper Hwy.
Cosby, TN 37722
(423) 487-2519
https://magnolia-tree.business.site/
From their website:
Family owned and operated restaurant. Everything is made to order to ensure freshness! There is a wide variety of food choices to choose from along with a great family friendly atmosphere. Please stop by and say hey!

Ziplines Near Cosby
It was once considered a lofty, if not impossible, dream to soar above the Smoky Mountains like the birds do for an even more thrilling adventure in East Tennessee. No one can fly and no aircraft could get close to the trees for fear of crashing. That dream has been realized since the late 2000s with the Ziplining industry of the Smoky Mountains and there are several places near our cabins that can offer such an incredible ride among the tree tops.
Here are our recommendations for guests who want to try ziplining in the Smokies for themselves.
* Wildwater Pigeon Rafting and Zipline Canopy Tours *
3555 Hartford Rd.
Hartford, TN 37753
(866) 319-8870
https://wildwaterrafting.com/zipline-canopy-tours/
From their website:
"We have five full zipline canopy tours that include multiple ziplines, sky bridges, rappelling and more! All our tours offer a soaring and gliding experience naturally fueled by changes in elevation. Canopy tours typically have 9-13 zips, with small groups of up to 10 Guests plus 2 Rangers, who take you through a guided trip in the tree canopy. Ziplines run from tree to tree with bridges, poles, man made towers and other elements so you have the most fun possible. All tours start with training, orientation, and practice zips. Canopy Tours are about the challenge, learning, and thrill of doing something new in a beautiful location."

* CLIMB Works Smoky Mountains - Zipline Tour *
155 Branam Hollow Rd.
Gatlinburg, TN 37738
(865) 325-8116
https://www.climbworks.com/
From their website:
"We offer two world-class zipline tours – our breathtaking Mountaintop Zipline and our top-rated Treetop Zipline. Nestled right across the street from the Great Smoky Mountain National Park, you can explore one of the most beautiful places on earth in two unique and exciting ways. What we don't offer is cheap thrills. Both of our tours are guided, educational, immersed-in-nature, 5-star, oh-my-goodness-look-at-that-view, step-out-of-your-comfort-zone type of experiences that the whole family will be talking about for years."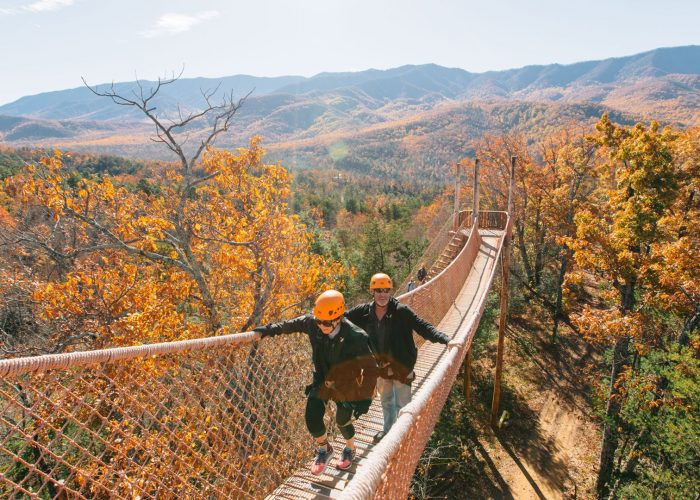 * Foxfire Mountain Adventure Park *
3757 Thomas Ln.
Sevierville, TN 37876
(865) 774-0727
https://www.foxfiremountain.com/
From their website:
"The Foxfire Mountain Waterfall Canopy Zip Line Tour is the only zip line in the Smokies that actually zips over a waterfall. The tour is a true Smoky Mountain jungle tour where you zip from tree to tree like Tarzan. Get set to experience the majesty, and mystic beauty of the Smoky Mountains as you zip across valleys and creeks for up to two hours on seven tree platforms. Here you will zip across mountains, over creeks and waterfalls, on to the side of rock cliffs, across valleys, and then back to the base camp. An awesome bonding experience for the entire family. This beautiful and scenic tour has seven different lines and two sky bridges with several platforms, each with their own unique characteristics. The tour will zip you right over our very own Lost Mine Falls."

* Legacy Mountain Ziplines *
800 Legacy Vista Dr.
Sevierville, TN 37862
(865) 292-3868
https://www.legacymountainziplines.com/
From their website:
"Legacy Mountain Ziplines is a zipline complex located only minutes from Pigeon Forge and Gatlinburg. Our high-flying adventure is a family-favorite destination for anyone from three years of age and older, up to 275 lbs. You will love the feeling of flying through the air at speeds up to 50 mph on 4.5 miles of lines up to 500 feet high. This is the place for memories that will last a lifetime. Add Legacy Mountain Ziplines to your vacation to-do-list and discover why we are the premier ziplines in the Smokies."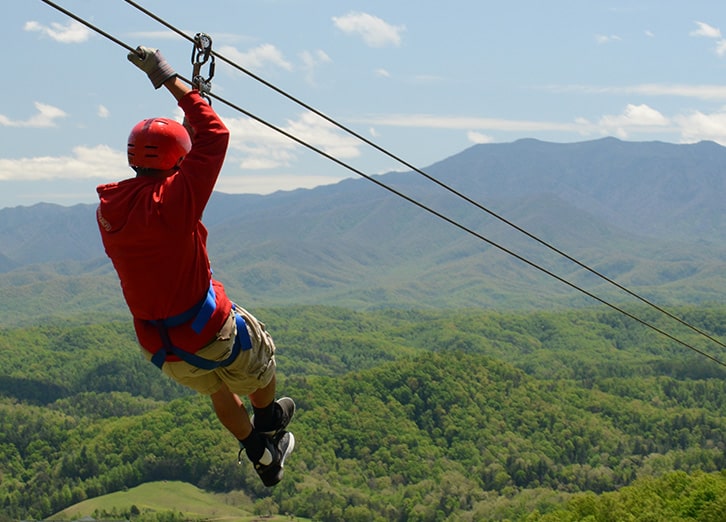 Whitewater Rafting
Now we get to it - the most thrilling activity in the Smoky Mountains that can be done outdoors. Cosby, TN, and nearby Hartford, TN, are famous for our proximity to whitewater rapids and we have many service providers for those who want to crash along the Pigeon River that runs through the cities and National Park.
Here are our recommendations for whitewater rafting:
* Rafting in the Smokies *
813 East Pkwy,
Gatlinburg, TN 37738
(800) 776-7238
https://raftinginthesmokies.com/
From their website:
"ADVENTURING THE PIGEON RIVER SINCE 1978. Rafting in the Smokies was a pioneer outfitter on the Big Pigeon River in 1978. We even helped name the rapids back in those early days! Our goal then was to assemble a group of professional whitewater athletes to provide affordable fun on the river. That goal has never changed. People First. Certified and Trained Guides. Family Friendly. Safety Focused. Environmental Stewards. You want the best for your vacation in the Smokies, we know! All our rafting trips include certified and trained guides for your safety and comfort. Our guides love the great outdoors and are eager to share their knowledge and enthusiasm with you. Our office staff works together with our rafting and zip line guides to ensure your total experience is the best it can be – from the moment you contact us about a trip."

* 5 Rivers Adventures *
3150 Dorsey Rd,
Cosby, TN 37722
(888) 204-8779
https://www.fiveriversadventures.com/
From their website:
"Guided white water rafting trips through class 3 and 4 white water. You and your guide will run rapids surf , and have a great time. 5 Rivers Adventures, Inc. is a whitewater rafting company established in 1997 and is located on the beautiful Big Pigeon River in Hartford, TN. Our company boasts one of the finest outdoor attractions in the eastern Tennessee and western North Carolina areas. We are located approximately 30 minutes from Gatlinburg, TN and 45 minutes from Asheville, NC. We offer full service whitewater rafting trips for all ages and skill levels. No matter what the size of your group, we can accommodate your needs wants and provide a day of unforgettable memories for all. Our staff is second to none. All of our guides are professionally trained, both as river guides and as medical care providers. Our guides average over 12 years of whitewater experience to provide not only a fun and exciting trip, but more importantly a safe one as well!"

* NOC Pigeon Outpost *
3485 Hartford Rd
Hartford, TN 37753
(865) 210-8565
https://noc.com/pigeon-river-tn/
From their website:
"Add some adventure to your Smoky Mountain vacation with a whitewater rafting trip on the Pigeon River – conveniently located near Gatlinburg, Pigeon Forge, Asheville, and Maggie Valley. NOC offers two invigorating trips on the Pigeon River, so children as young as 3 can enjoy the cool mountain whitewater. Raft the Upper Pigeon for a full dose of excitement as you splash your way through more than a dozen Class III and IV rapids, including Accelerator, Roller Coaster, and Lost Guide. If gentle rapids and swimming holes are more your speed, float the Lower Pigeon – ideal for families and groups with young children. Either way, you'll enjoy the beautiful Great Smoky Mountains from a completely new perspective."

* Big Bear Whitewater Rafting *
3165 Big Creek Rd
Hartford, TN 37753
(844) 799-7238
https://www.bigbearrafting.com/
From their website:
"Experience Whitewater Rafting Near Gatlinburg, Pigeon Forge, and Asheville, NC. Big Bear Rafting guides families, friends, and groups of adventurers down the Pigeon River in the Great Smoky Mountains. Born and raised in the East Tennessee mountains, Big Bear Rafting is locally owned and operated. With a team of professionally trained and certified whitewater rafting guides, Big Bear Rafting offers the areas safest and thrilling whitewater experience with a focus on quality visitor experience. Whether you're looking for a relaxing float or thrilling Class III-IV whitewater, we have the trip for you!"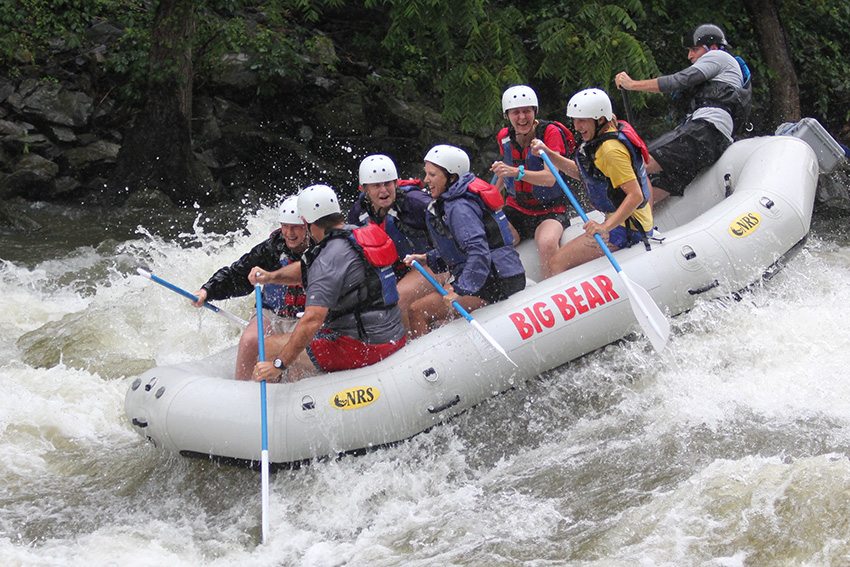 * Smoky Mountain River Rat Whitewater *
3630 Hartford Rd
Hartford, TN 37753
(423) 487-4303
https://smokymtnriverrat.com/
From their website:
"Welcome to Smoky Mountain River Rat! We're your award-winning destination for a cool escape in the heart of the Smokies. From top-notch Tubing to heart-pumping Whitewater Rafting, we specialize in making lasting memories. Family owned and operated since 1995, River Rat is a unique getaway into the great outdoors for the whole family. Grab your swim shoes, unplug and get ready to vacation as nature intended in Mother Nature's Water Parks."

* Big Creek Expeditions *
3671 Hartford Rd
Hartford, TN 37753
(423) 487-0178
https://www.bigcreekexpeditions.com/
From their website:
"If you have a thirst for adventure and have dreamed of paddling down a river with your friends, family or group through the Smoky Mountains, this is the trip for you. Experience the Great Smoky Mountains in a whole new way, with panoramic views of ancient mountains, thrilling rapids that will leave you soaking wet, and an immersive experience that will keep you smiling from ear to ear."

Additional Ideas For General Smoky Mountain Activities
Fly Fishing
The Great Smoky Mountains National Park has over 800 miles of rivers and streams with an average of two-to-three thousand fish per mile. The higher elevation waters hold the native Brook Trout, while the mid-elevation waters hold Rainbow Trout, and the lower-elevation waters hold Brown Trout. For novice fishermen, we recommend booking a guide trip from Little River Outfitters in Townsend, TN. LRO also has the most complete fly shop in the Smokies, and caters to beginners and experts alike. Or book a trip with the nationally-acclaimed fly fishing guide and author Ian Rutter, or the Smoky Mountain Angler in Gatlinburg.
Hiking
Spanning over 600,000 acres, The Great Smoky Mountain National Park boasts an almost endless supply of hiking trails for every skill level. At the Cosby Entrance to the Smoky Mountains, we recommend the Hen Wallow Falls hike directly across the road from the picnic area. This is a beautiful, moderate 4.4 mile hike.
Family Fun
The Smoky Mountains and surrounding area are made for family fun! Many families enjoy a day or two at Dollywood in Pigeon Forge. This massive theme park has something for the entire family – plenty of kids' activities – rides, shows, crafts, and lots of good food! Take in a show at one of the many offerings in the area – Comedy Barn, Blackbear Jamboree, Dixie Stampede, Grand Majestic Theatre, Wonders of Magic, Smoky Mountain Opry, and Lumberjack Feud just to name a few! Take in a day in Gatlinburg, where you can enjoy many sights, sounds, all within an easy walk. Ripley's Aquarium is one of the nation's top-rated aquariums. Enjoy a meal at the many delicious restaurants including the Pancake Pantry, Bennett's Barbeque, and Hard Rock Café. Ride to the top of Ski Mountain in the largest ariel tram in North America, Ober Gatlinburg. Once you reach the top, there is a small amusement park, an ice skating rink, restaurants, and a bear exhibit.
Shopping
Enjoy hundreds of small, local retail specialty shops in the downtown Gatlinburg and Arts & Crafts community, including The Body Works, Buckboard Too, Celtic Heritage Company, The Day Hiker, Glass Blowers of Gatlinburg, Little Sparrow Gallery, Honey Pot, The Hayloft, Village Candles, Tickled Pink Boutique, and many others. And if outlet malls are your thing, spend some time at the Tanger Outlet Mall in Sevierville.